August 21st, 2017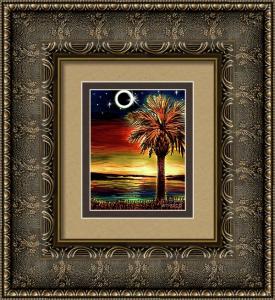 Wow! That was an amazing thing to see! I didn't have any glasses so I made a pin hole viewer. Then I noticed the leaves on the trees were creating pin hole views by the thousands on my sidewalk! Much bigger than my cereal box viewer! On the approach of total eclipse the shadows became sharper, the crescent images on the sidewalk also became sharper and easier to see. In total eclipse the light became dank and gray, you could still see some clouds and the trees but in a flat darkness. The sun became a bright white button with a black center. This lasted a couple of minutes. I could sense the change of light and warmth of the sun as soon as it was moving out of total. I could hear people and children shouting in amazement, "I see it!" "Cool!"

See my artwork Eclipse 2017 South Carolina.



July 3rd, 2017
As an artist I feed on inspiration to create. Sometimes it's a nagging need that zaps around like static electricity seeking a place to connect and discharge. My daily routine and travels are always filled with taking in those visual cues that spark the creative side. When that happens, I may get a flash of an image in my mind and if my creative energy seems to tag it..it will stay in my thoughts until I paint it. My most recent painting is Gentle Beach Waves And Seashell. I love to paint things associated with the ocean, horses, floral, birds, most animals, sunsets, clouds and the moon. I feel a sense of joy in the unique beauty in all these things and more. It's a wonderful thing and a blessing, to be able to see the simple beauty that is right before our eyes..if only we would stop for a moment ...take time to breathe ...inhale..and..exhale...go outside ...feel the peace...see the gift...and be inspired:)


December 29th, 2016
I remember going on a trip to a sugar bush in Quebec when I was about eight years old. A sugar bush is a forest of sugar maple or black maple trees where the tree sap is harvested for maple syrup. It was in mid to late March and a late snow had the area looking like a winter wonderland. We arrived at this weathered old looking barn house. The interior was open and filled with long tables and benches where we enjoyed a tasty meal of maple cured ham with all the trimmings of carrots, peas, potatoes,maple pies, cookies, and fudge. We then went on a sleigh ride through the maple tree grove. The sled was made of wood it was red and we sat on benches that ran along either side. It was pulled by two large horses guided by the driver of the sleigh. There were two tin buckets hanging about two feet from the bottom of each maple tree. A special grooved spigot was tapped into the trees large enough to yield sweet sap which dripped into the hanging buckets. I saw another horse drawn sleigh with a large metal collecting vat or barrels. This was about 1968 and they would carry each bucket of sugar sap and pour it in this receptacle. After the sleigh ride we went to a long snow packed table out by the sugar shack they would boil a special batch of syrup down to a soft taffy and ladle it in strips onto the snow table. We had large popsicle sticks that we used to lift and twirl this sweet wonderful treat from the maple trees. Sweet heavenly pure maple syrup taffy! A sweet memory that would one day inspire an artwork called Sugar Bush Sleigh Ride!
February 16th, 2016
I don't know about you but when that knot tension starts to get hold of you while in a creative production of artwork it's better to stop what your doing and massage that knot and tension away before it gets so bad it's going to be days of painful discomfort. I found a massage cane similar to the image above and it has been one of my favorite ways to work out those knots and relax tense shoulders, back and neck muscles. I am not in any way affiliated with this product just wanted to share how much it has helped me.
February 14th, 2016
I was stuck on a painting of an ocean wave scene! I thought I would paint a boat at sea, but in the process the waves and the storm clouds seemed to be an obstacle as I could not imagine a boat being out there....my painting with only the waves stayed on my shelf for quite some time. Then one day while viewing the artwork from across the room I thought a skilled captain of his ship would be able to handle this! In my research I came across sayings such as you cannot control the wind but you can adjust your sails...hmm good advice for life in general...or I am not afraid of storms for I am learning to sail my ship...Louisa May Alcott...another good one. Click the link to see my completed artwork titles Catch The Wind.
October 29th, 2015
If a beloved horse could send a message he or she might say this. See Thank You For Loving Me.
October 23rd, 2015
Following the journey of a dear sweet friend who is undergoing chemotherapy, she stated that while watching the purple martin migration to Lunch Island she felt a symbolism in the flocks of birds flying on to the island similar to all the wonderful people who have flocked to her side supporting and praying for her. I was inspired to paint Purple Martin Migration. I have since gifted this artwork to her in the hope that it would uplift her spirit, and on the morning of the delivery along with much needed support and prayer from all her troopers she is back on track:). The proceeds from this artwork will go to breast cancer research/support.
February 12th, 2012
The light and tone within cloud formations is an amazing study. I will often photograph interesting cloud formations. Sometimes one can almost see some kind of imagery or suggestion of something we recognize. I was not aware I had captured this imagery until I reviewed the photo's. Levels adjustment only. Here is what to me looks like and angel's image. Since this image was captured couple of days after my Grandmother's passing I took this as a sign of comfort. I added the prayer because my Grandmother was very much a christian and any association I make to her must include a blessing for all who will receive it as such. She would be smiling right now:) <3